HACKING JUSTICE The defence of Julian Assange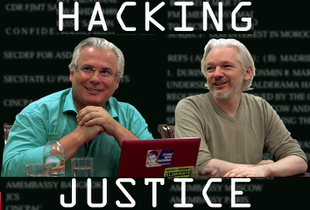 HACKING JUSTICE
Clara Lopez, Juan Pancorbo, 90/52 min.  (Prod : Mediapro, SP; InselFilm, DE)

When you're more than a journalist, you need more than a lawyer ...  
Baltasar Garzon, 58, is an analogue man, barely speaks english, is bad with computers. But he plays a major global role within the digital world. He took upon coordinating the international legal teams preparing the upcoming defense of WikiLeaks founder Julian Assange. Garzon is one of the world's leading authorities upholding the principle of Universal Jurisdiction, defending in this case freedom of press but also fundamental human rights. With a unique access, the film witnesses the struggle for the control of information, the growing influence of intelligence services, the lack of transparency, the role of the mass media and the difficult balance of individual rights and state security.
The film premiered at Docs Barcelona, was shown at prestigious FIPA in Biarritz, got the Best documentary award at International Film Festival of the Caribbean Sea, Venezuela and Special Jury mention at DocsMx, Mexico City, among many others, namely as politically engaging festivals such as Elevate Festival, Graz, Austria or Millenium Festival, Brussels. It was released on television on WDR in Gemany, on Canal Sur and Historia in Spain, as well as on RTS in Switzerland, ERR in Estonia, RAI Contemporaneo in Italy and soon on RTBF in Belgium.
This email address is being protected from spambots. You need JavaScript enabled to view it.