a Mladen Kovacevic & HOROPTER PRODUCTION (SB), project (90'/52') – June 2018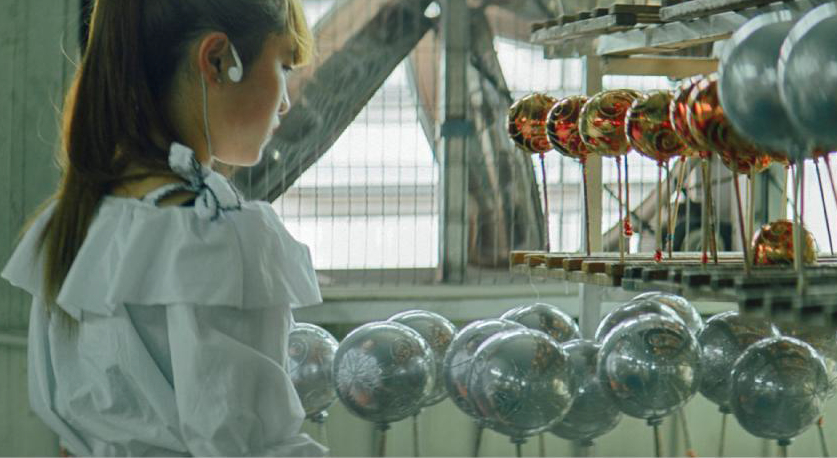 SYNOPSIS & SUBJECT
In China, where most of the products shaping our global civilization are produced, Christmas is made in Yiwu, where 600 factories collectively deliver more than 60% all the world's christmas decorations, thousands of kilometers from where western children imagine busy merry elves in cabins covered with snow. The christmas merchandise is distributed to thousands of wholesale shops within Yiwu's colossal International Trade Market, until it is loaded to containers heading overseas. This film is a unique access portrait of Yiwu and its workers.
Yiwu is a wealthy modern city with cosmopolitan urbane lifestyle rarely seen in China: bosses driving Maseratis and Rolls Royces, and workers from all over China, who rather miss their factories when they go home for holidays.
These factories are surrogate households where best friends hang out, where couples meet, families form and children grow up - all trapped in the parallel Christmas universe where it isn't celebrated by any. The workers from Yiwu have unusually large salaries, several times higher than in most of China. They live in dormitories for free, air-conditioning and three meals included. Yiwu is the ultimate globalization success story, a fairy-tale for grownups.
"Merry Christmas, Yiwu" is an observational documentary with a geopolitical twist, and the alluring visual aesthetic that enhances the irony of modern China – the unexpected place where even Christmas is made.
SETTING
In the production halls psychedelically coated in red, gold, or silver, or those that resemble indoor forests of pine trees, or glitter with baubles and tinsel like in an old Sci-Fi B-movies, the disciplined Chinese workers make decorations with surreal craftsmanship. Shiny Christmas balls with elaborate patterns. Santa Clauses in every imaginable incarnation, Snowmen, Christmas trees. Tinsels, stockings, snowflakes. Every possible kind of Christmas lights, accompanied with high-pitched festive melodies. And contrary to popular belief – it is all hand-made.
Yiwu is the place where modern China seems most puzzling. After flourishing with trade and crafts since the 18th century, Yiwu was systematically suppressed by the communist regime as the embodiment of free market and capitalism, only to explode to today's 600 Christmas factories and the largest wholesale market in the world that has the incredible 75,000 shops under one roof, manufacturing year-round to satisfy the Western ravenous consumerism that peaks at Christmas and New Year's.
clips:  vimeo.com/219865086; vimeo.com/220828272 ; vimeo.com//220942896 ; vimeo.com//220944841 ;
psw: Yiwu1, Yiwu2, Yiwu3, Yiwu4
TREATMENT
Striking wide shots of the modern city, shiny skyscrapers, most expensive cars. At the plant, workers are in a merry mood, they are setting off for an abundant lunch provided in carton boxes. It is 30 degrees, fans are buzzing thoughtout this strange universe of multicolored dyes, flickering lights, and plastic fumes. We are in the real Santa's workshop. It offers a unique insight into controversies of modern China – rapidly developing, vibrant and harsh.
Pregnant Zhilan comes to the door and calls her husband Hao – his face is sweaty while he is dipping metal wire into the bucket of boiling liquid and bending it into beautifully curved reindeer antlers. She asks him to join for lunch. Sitong turns off his machine and goes to the water taps outside the factory hall. He washes away colorants from his sweaty body. He is telling his coworkers that he is looking for roommates. He decided to stay at Yiwu for good.
The intimate stories and micro-developments of characters support the central storyline of Ms. Zhu, all revolving around the Christmas production. Ms. Zhu's grandparents started one of the first factories for Christmas decorations in Yiwu. Few years ago, she left her gynecologist career to return to her family roots – she opened a wholesale shop at the vast Yiwu International Trade Center. She just gave birth to her second child, the controversial one-child policy being over. Seizing the opportunities provided by China's unofficial embracement of capitalism, Ms. Zhu is busy building a new factory together with her husband Mr. Lin, also a doctor who gave up his career to join the Christmas business. The couple are mostly concerned about their kids – she wants to raise them herself, and argues that Chinese grandparents are notorious for spoiling grandkids, while he fears that babysitters are too cold and indifferent.
While "Merry Christmas, Yiwu"'s original feature lenght  will be a poetic observational documentary with alluring visual esthetic, the Televison hour will center more on the surprisingly entertaining story of this strange place where Christmas is made, and will be aimed at televison audience, with adapted narrative tools. 
PRODUCTION TEAM
Director / Mladen Kovacevic, After years of studying fiction film directing in Belgrade, London, and Cape Town, Mladen Kovačević has wholeheartedly dedicated himself to documentaries. In just few years, he made several commissioned and thematic documentaries, and his debut documentary feature, the offbeat but highly acclaimed "Unplugged" (Visions du Réel 2013; Hot Docs, CPH:DOX, DOK Leipzig, in total 80 festivals), and was followed by "Wall of Death, and All That", praised internationally as well.
Production house / Horopter, Based in Belgrade, Sebia, was founded by filmmaker Mladen Kovacevic, at first for his own film's production, then dedicated to international co-productions, aiming at quality, viable feature and documentary films for the global marketplace. Horopter produced the thematic documentary DUMBFOUNDED HOG, commissioned documentary LIVING OUT OF SIGHT, and PENNY IS NOT PETTY!, and is currently in production of BEGINNINGS, an ambitious art house feature documentary shot all around the world, from South Pacific, to Himalayas, to Mediterranean, and North Europe.